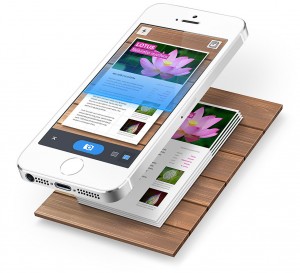 Wouldn't it be nice to have a scanner in your pocket? How many times have you wanted (or needed) to scan something on the go – documents, receipts, etc.? Well, now you can have a scanner with you all the time, and a pretty good one to boot.
I have used Scanner Pro for sometime as my "go to" scanner app, and it works great. I use it when I'm out of the office and sometimes even when I'm in the office. Apparently, I'm not the only one – as Readdle is celebrating 6 million downloads by offering Scanner Pro for less than half price.
Scanner Pro enables you to scan paper documents into PDFs using the built-in iOS camera. Its unique technology automatically detects the edges, fixes geometry, removes shades and other visual defects to achieve clean and professional scan. Once you have scanned your document, you can easily share the PDF via e-mail or upload to Dropbox or Evernote. The New York Times said "Scanner Pro is perhaps the best app for quickly scanning and saving a digital version of a paper document."
For a limited time, you can get Scanner Pro from the App Store for only $2.99 (instead of it's regular $6.99). At either price it's a bargain. If you don't already have it, get it now! Trust me, you won't regret it.