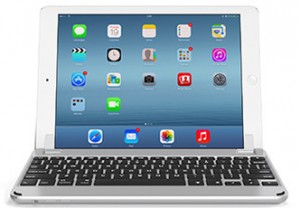 I am always in search for the "ideal" keyboard/case for my iPad. Since its debut, I used my iPad as an extension of my computer (more on that in an upcoming post), rather than a media consumer. So for the past few months, I have been testing different keyboard/cases and look forward to testing a few others (and welcome any suggestions). Below is my review of the BrydgeAir iPad keyboard case.
Why a keyboard/case?
Before we dive into the review of the BrydgeAir, consider that my review comes from the stand-point stated above: I use my iPad as an extension of my computer, rather than a media consumer.
I know others feel differently; and, sure, there are things that an iPad cannot do as well as a computer. But, for what I do (e.g., word-processing; creating and presenting Keynote presentation; answering and drafting email; reviewing and annotating PDFs; and as a tool for litigation) the iPad is an ideal a computer replacement; nonetheless, I will admit there are times when a computer is the better tool.
For example, my iPad always goes with me to Court as both a case file and note-taking tool. This allows me to have access to all the documents in my file; my research and preferred research service; the internet; and a word processor for note taking. As so as I leave the courtroom, my notes are sent to the case file, while I begin drafting an Order or other necessary document through the built-in dictation. There is no other tool that offers this kind of productivity (yes, you could use your smartphone, but given its size that does not seem a practical alternative).
If you work requires more "heavy-lifting," then the iPad may not provide the same utility. But, I think if your iPad is properly set-up and you do not expect it to function exactly like your computer the possibilities are exponential, especially considering the features of iOS 9 (see Ben's post about the new features here). More on this later; for now, let us turn our attention to the BrydgeAir.
The BrydgeAir
Having taken the BrydgeAir with me to the courthouse a few times, used it to draft several documents (including this blog post), conduct research, and other various activities, I am very pleased with its performance. Overall, I rate the BrydgeAir a 4 out of 5. "As-is" it is a top-notch choice that I will likely continue to use; but with a few adjustments I believe the BrydgeAir could be an outstanding keyboard case.
Pros:
Easy pairing: Pairing the keyboard with your iPad is very easy (the keyboard uses a series of "beeps" to let you know the two devices are paired). The keyboard also works quite well; but I think a few adjustments (as illustrated below) it could be made better.
Aluminum body: The BrydgeAir is made from a single-piece of high grade aluminum. This feature alone makes it stand above other keyboard/cases I have tested so far. Once the iPad is placed in the hinges, there is no question of it falling out. Also from a cosmetic stand-point, it compliments the iPad quite nicely.
Backlight keys: Although, most of the places I use my iPad are well-light, I am sure this feature will be handy at the right time.
Built-in Speakers: The BrydgeAir also incorporates a set of bluetooth speakers, which have great sound quality (just like with the pairing of the keyboard, there is a series of "beeps" letting you know the devices are paired); which is a very useful feature.
Exceptional battery life.
Cons:
Cost: The $169.00 price is at the higher-end for keyboard/cases.
180 Degree Hinge: While the BrydgeAir allows for you to fold it "flat," it would be outstanding if the hinges allowed the keyboard completely fold over (like a book). Additionally, when the hinges are laid out 180 degrees, the iPad does not sit flush.
Lack of a "fn" Key: In the place of the "fn" key is a key to activate Siri, which has led my muscle memory to create some awkward Siri outbursts. I would prefer to have the "fn" key in its normal location and for the key to activate Siri on the top key row (above the number keys).
Lack of a iOS Multitasking Key: The way I use my iPad, the iOS multitasking key is an important feature, as it allows me to access. Like the hinge, if the BrydgeAir keyboard case incorporated this feature, there is no question it would be keyboard of choice.
The keys could be a little more responsive and require a little less travel.
Removing the iPad: The same safety and security that comes from the hinges also makes it difficult to remove the iPad. Since the hinges only fold so far and prevent the iPad from sitting flush, it would be great if removal of the iPad were not such a hassle.
Noise: The keyboard can be a little noisy (or it could just be my typing style), but I have yet to receive any complaints from a Judge or Court Reporter (thankfully).