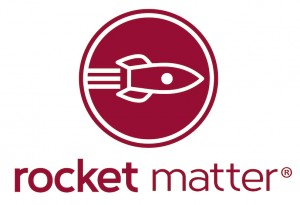 As my readers know, my firm has used Rocket Matter since its launch in early 2008, and we absolutely love it. 2016 has already been a busy year for them, as they introduced QuickBooks Online integration and Rocket Matter Payments in February, followed in March byMatter Templates and Rocket Matter Atlas, a complete, modern redesign of the its user interface.
Never ones to rest on their laurels, Rocket Matter released their Atlas 1.1 update a few days ago, which includes numerous new additions to help make law firms be even more productive and increase their revenue. These new features include new tax functionality, multiple timers, an improved onboarding experience with gamification, and customizable dashboards.
Larry Port, Rocket Matter's CEO and founder says:
"Let's be honest: Taxes are not enjoyable to talk about in any way, and they're even less fun to tally up on an invoice. Rocket Matter now takes care of this task for you. We rolled out some exciting stuff, too – a compelling gaming system for our new customers that makes learning Rocket Matter entertaining, along with some cool new features our customers have been asking us to add."
Because my firm is on a pre-release program, we have been using many of these features for several weeks, and I can easily say that my favorite is the customizable dashboards and calendars, which now allow users to customize their personal Dashboards to be either "task-centric" or "calendar centric." Everyone works in different ways, so this additional flexibility allows users to choose the one most helpful to them. In our office, the attorneys lean toward the "calendar centric" view, while our support staff prefer the "task-centric" view.
One of the other great new features is the ability to view the firm-wide calendar in either of two view settings. Users who prefer to view their calendar in one clear, elegant-looking size, "fit events to view" provides a "more" link if the number of events on any given day exceeds the available space. On the other hand, "show all events" will stretch the size of the page to show all events on each day without having to click on the "more" link. I prefer the latter, but I can see why some would rather have the option for the same size "box" for each day.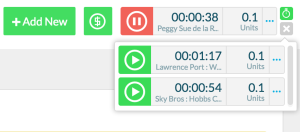 People who tend to work on multiple tasks at once will love the new multiple timers feature (shown at right). This allows Rocket Matter users to run a timer, pause it when they get interrupted, start another one for a different matter, and then come back to the original timer later. Billable time gets tracked on each timer and, in turn, seamlessly appears on an invoice. For those with many things going on at one time, this can be a life saver (and help capture time that might otherwise be lost and thus unbillable.
If you haven't already checked out Rocket Matter Atlas, you can view this informative overview video. We are extremely choosy with regard to which program we entrust our calendaring, task management, contacts, and time and billing (among other important function), and the fact that we have been with Rocket Matter for almost 8.5 years is a testament to the strength of their product. In the decade before we started using it, we easily went through 7 or 8 other products trying to find the "right" solution. For us, that's Rocket Matter, and we applaud their never-ending desire to constantly improve their product in an effort to make the work lives of their users more efficient and more profitable.