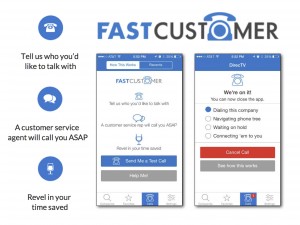 Do you enjoy wasting time on hold while listening to elevator music? Me neither. FastCustomer can (thankfully) make that experience a distant memory.
Simply let them know the name of the company that you would like to talk with (via call, text, or search), and they will have a customer service agent from that company call you. Voila! No time wasted and no elevator music.
FastCustomer is available via website or its iOS and Android apps. Among the thousands of companies that participate in this service are Apple, Verizon, AT&T, Bank of America, Southwest, Citibank, Mastercard, Visa, Discover, Sirius/XM, USPS, Walmart, Costco, etc.