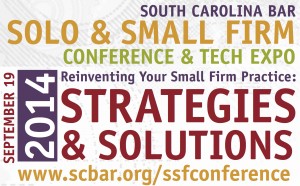 Each year the Solo & Small Firm Conference is the place to be for all SC attorneys who are solo practitioners or practice in the small firm setting. From networking to marketing to picking up tips on how to incorporate the latest technology into your practice, you'll find it at the Solo & Small Firm Conference.
This year's theme is "Reinventing Your Small Firm Practice: Strategies & Solutions" and it will feature three tracks of programs allowing you to completely customize your conference experience.  With topics such as "Cloud Computing: The Good, The Bad, and The Ethics"; "A Systems Approach to Small Firm Practice"; "Are You Mac-Curious? If Not, You Should Be!" and "Essential Skills & Strategies for Legal Research" (as a sampling) – it is sure to be an information-packed day which will measurably improve your practice.
The special guest speaker, a friend of our firm, and a nationally known author and speaker, Nerino Petro, is a regular contributor to local, state and national publications and has a wealth of knowledge to share with all SSF Conference attendees. He will be presenting three separate sessions, as well as joining the always popular Tech Tips & Practice Pointers panel at the end of the day along with other featured speakers, Courtney Kennaday, Dave Maxfield, Ed Walters, and our own, Ben Stevens.
The early bird registration for this fantastic seminar starts at $205 for Section Members and $230 for Non-Section Members, but this special rate ends September 5, so register now (Click Here for Registration Information).