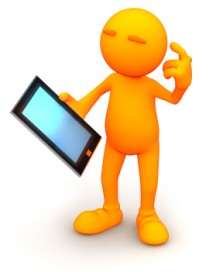 I am pleased to present the conclusion of the Guest Post from Jim McLaren and Jonathan Lounsberry explaining how they use iPads and Macs in their family law practice. If you missed it, you can click here to read Part One. Thanks again to Jim and Jonathan for sharing this information with my readers.
Once all of the depositions are completed and the case is moving towards final preparation for the trial, we identify the key exhibits for trial.  An exhibit list for each witness is prepared, as is an overall exhibit list. All of this is keyed in and correlated in the Trial Notebook. Besides creating exhibit lists, we also prepare lists of the potential witnesses and issues. The exhibit, witness and issue lists are used to create our trial outline giving us a "roadmap" for trial. With all the outline and lists completed, we are generally ready for the trial and the presentation of testimony and exhibits.
Our basic set-up in the courtroom is much like our deposition set-up. My rule-of-thumb is to be totally self-sufficient and not depend on any locally provided services.  We bring the MacBook Air, iPads (Wi-Fi and 4G), extension cords, multi-plugs, 4G Hot Spot, chargers, VPN and Wi-Fi access to our servers at the office, thumbdrives, printers, gaffer's tape and everything else we need to operate throughout the trial.  We usually request a staging room (if available) where we keep the printer (set-up and ready to use), an additional computer and hardcopies of documents (separated by day in which we anticipated using them).
In the trial of a case, we use TrialPad to present our exhibits.  Clean paper copies of the exhibits are marked and entered into evidence as official exhibits, with copies to all involved counsel and an extra copy for the judge.  As each exhibit is entered into evidence, our highlighted exhibits in TrialPad are put up on a screen (already in the courtroom or provided by us) in front of the attorneys, the trial judge and the witnesses.  Important portions of documents are displayed using the "call out" feature of TrialPad. Either an associate or a paralegal operates TrialPad from our counsel table; quite effective and easy to use.  No fumbling or waiting until the witness gets to page 188 of a 256 page document – we take the witness, the trial judge and all counsel directly to the excerpt.
Another effective way we present testimony and evidence in trial is through a PowerPoint presentation (or Keynote, if you are a Mac-user). I have found that using a PowerPoint presentation allows for a more structured examination of a witness or opening/closing argument. We like to keep our slides simple, illustrating single points or facts. Our motto is "detailed brevity". This is important to keep the trial judge or jury focused and able to easily retain a larger percentage of the witnesses' testimony. Depending on the length of the hearing and the electronic capabilities of the courtroom, we use either a laptop or an iPad (through Keynote or TrialPad) to present our PowerPoints.
Most of our office hardware and software is Microsoft-based.  While some are Apple-based, that is the exception.  Prior to the spring of 2011, I always had a reluctance to move into Apple products fearing they would not be compatible or usable with our Microsoft-based systems.  Having incorporated Apple products into our workflow, I find the Apple products are not only very intuitive but each product has become almost indispensable. Using Apple products has definitely changed the way we present a case during trial.
I hope you find this post helpful. My goal is to give the reader an idea of how we use technology in our practice, and I hope your path to successfully using technology in the courtroom has been shortened. Thank you.
About the Authors:  
James T. McLaren maintains a statewide family law practice emphasizing complex marital litigation in Columbia, South Carolina. He is a partner in the law firm of McLaren & Lee. He currently serves as First Vice-President and is on the Executive Committee of the American Academy of Matrimonial Lawyers, and he is a Diplomate of the American College of
Family Trial Lawyers and a Fellow of the International Academy of Matrimonial Lawyers.
Jonathan W. Lounsberry has B.A.'s in Philosophy and Political Science from the University of South Carolina (2006) and a J.D. from the Charleston School of Law (2009). He is a member of the Charleston County Bar and the South Carolina Bar. He practices in the areas of complex domestic litigation and juvenile justice.