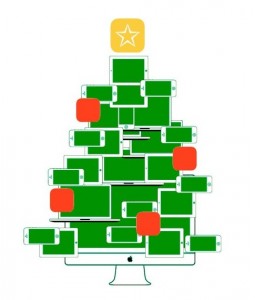 The following guest post is from my good friend and technology guru, Larry Port:
You're almost out of time, getting to the point that you aren't going to be able to order that present online for Christmas. For better or for worse, there's still that last bastion of shopper accessibility, the mall.
And a lot of your malls will have an Apple Store.  And that's good, because it means you can park the car, run through the mall and avoid wandering like an aimless beast, and get into the Apple store and out with the following goodies:
Nike Fuel Band ($150)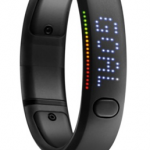 Until the iWatch comes out, there's no cooler-looking digital display than the Nike Fuel Band.  Look to wearable tech being the biggest theme in consumer electronics over the next two years, and Nike is on the bleeding edge of this stuff.
Like other products such as FitBit, the Fuel band tracks your exerted energy throughout the day and allows you to upload your information via a paired app.  People who like this thing often use it with their friends, and they compete to see who's more active or not.  Best bet: get one for you and one for another person, and push each other to get some six-pack abs in 2014.
Phillips SoundShooter Bluetooth Speakers ($50)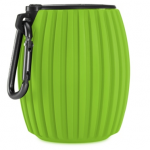 You can spend $40 or over $200 on small, portable bluetooth speakers.  This crazy-looking device from Phillips packs a punch of sound, which is wild considering it is shorter than an actual iPhone.  If you're looking for a less expensive gift for your Apple enthusiast friend, this may suit the bill.
It's worth noting that Beats™ and Bose both manufacture miniature Bluetooth speaker systems. Apparently the merchants have discovered a whole new segment of sound consumers, those interested in portability.  Also, portable iPhone speakers were the number one gift at our company white elephant gift exchange.
iPad Mini Keyboard ($100)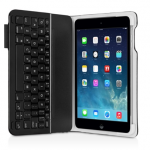 The people who really know go to town on their iPads are the ones who have an attached keyboard.  As a consumption device, the Apple tablet is amazing. But as a production device, you're a little hampered by the physical keyboard, or lack thereof.
Enter Logitech's awesome little keyboard cases.  Not only do they protect your device, but the Bluetooth connectivity affords you a wire-free iPad experience.  The cover is a very slickly-designed, rugged Kevlar-like surface, and the device slips into place quite easily. This might easily qualify as the perfect gift for yourself.  It will change the way you interact with your iPad Mini.
Kate Spade iPhone Case ($40)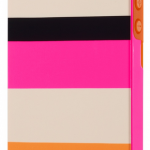 Phone cases are a perfect auxiliary gift.  They're the kind of thing people want to buy more often than they do. The mere switching of the phone case can make the device seem new again.
You can go crazy with new cases if you haven't seen what's out there.  Some of them are built to withstand what seem like nuclear explosions. Others are small and light, made of leather or wood,or even resemble books. This one is from designer Kate Spade – her brand recognition will legitimize this gift (as long as this is a supplemental gift and not the main one).
MacBook Air 13″ ($1,100)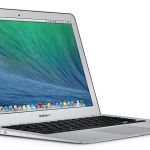 I'm a software engineer that has built his own computers and compiled Linux kernels.  Computer-wise, I've seen it all, and the best machine I've ever owned BY FAR is the MacBook Air.  In fact, I feel so passionately about the MacBook Air that I'm inspired to write a sonnet for it.
The battery lasts 10 hours.  It is light as a feather.  It's fast as can be, because the solid-state hard drive allows read-access at much higher speeds than traditional spinning hard drives. Bottom line is if you think a laptop is in the cards for someone this holiday season, go for the MacBook Air.
Beats Headphones ($300)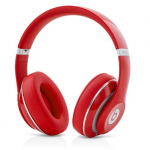 On this one I have to be honest:  I would never spend this kind of scratch on headphones.  But plenty of people do and swear by Beats™ by Dr. Dre™ and their beautiful creations. Their mission is super-amazing sound, and they want to introduce "an entirely new generation to the possibilities of premium sound entertainment."
I will say this – it's very cool to see someone approach an unloved design space and turn it on its head. Beats did that for headphones, and Next did it for, of all things, thermostats.  Personally, I cannot wait until some people from Apple leave to create the most gorgeous turkey baster ever.
About the Author :: Larry Port is the CEO and Chief Software Architect of Rocket Matter  an online legal software platform for time and billing and practice management.  He also runs Rocket X1, an Internet marketing agency for professional service firms.  Larry  writes on technology, business, and marketing topics for legal publications and speaks at legal conferences around the country.