About a year and half ago, I asked whether attorneys gave any thought as to why they use a particular font. After all, lawyers are hired to advocate their clients' positions as effectively as possible. Fonts transmit the written word, and they are a daily part of most lawyers' lives, whether they realize it or not.  That article discussed Equity from Matthew Butterick, which is still my font of choice.  Matthew has recently released a new font, Concourse, and I asked him to write the following post to introduce it to my readers:  
As I told Ben in my last guest post, it took me a while to come around to the idea that lawyers had enough special typographic requirements to merit the design of a new text family. But once I did, the result was Equity, a font tailored for the needs of legal writers.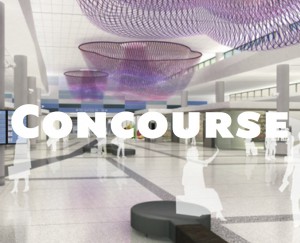 Given its design brief, I was prepared for the idea that Equity would find an audience that was enthusiastic but small. To my surprise, however, the audience has been enthusiastic and large. So to those of you who have bought Equity, my sincere thanks — your support of good typography makes my work possible.
Predictably, Equity customers were soon asking me what sans serif face would work best with it. I referred them to the Typography for Lawyers book & website for ideas.
But I had another idea too. Before I started work on Equity, I had drawn sketches of a sans serif that was inspired by classic sans serifs of the 1920s and '30s. I wasn't sure what to do with it, so I set it aside. But once I finished Equity, I saw that it would work well as a sans serif companion. I picked up the sketches again, finished the family, and have now released it as Concourse.
With Concourse, I relied on many lessons learned while designing Equity. For instance, Concourse can set long blocks of text in an efficient amount of space. Concourse has separate fonts containing the small caps, so it's easy to use them. Concourse is available under a liberal per-person licensing system.
But sans serifs are used in more design contexts than serif text fonts. So Concourse is actually a bigger and more diverse family than Equity. It comes in six weights, from thin to black. It includes a large complement of figures, fractions, and alternate alphabetic characters. You can see the whole Concourse family deployed in the PDF type specimen.
Concourse comes into two packages. Concourse Standard includes all 18 styles ($180 for a one-person license). Concourse Basic, includes the nine styles most likely to be useful in legal writing, like briefs and letters ($90 for a one-person license). You can order these on the Typography for Lawyers website. (You can also get Equity together with either Concourse package at a discount.
About the Author:  Matthew Butterick is an attorney, designer, and writer in Los Angeles. He is the author of the website and book Typography for Lawyers (Jones McClure Publishing).