Every year, legal publisher Fastcase publishes the company's annual list of "Fastcase 50" Award winners. Each year, this list recognizes 50 of "the smartest, most courageous innovators, techies, visionaries and leaders in the law." The Stevens Firm is thrilled to announce that our Senior Partner, Ben Stevens, was chosen as a member of the Fastcase 50 Class of 2015. In presenting this award, Fastcase cited "Ben's acumen in the Apple ecosystem has made him a sought-after speaker nationwide, and his blog is a definitive resource for the growing number of lawyers using Apple products in their law offices."
While Ben may be known to lawyers in Spartanburg, SC as the founding member of a successful family law practice specializing in complex cases, Fastcase pointed out that "to the rest of the world, Ben is The Mac Lawyer. Not 'a' Mac lawyer. Capital T, capital M, capital L: The Mac Lawyer." Ben has become a popular nationwide speaker at both family law and legal technology conferences, and he always finds a way to educate his audiences of the latest and greatest uses for building successful legal careers by implementing Mac and Apple devices into their practices at every level.
Ben was chosen for his courageous and innovative reinventing of his family law firm in 2005, long before it was cool to do so, by ditching the PC platform entirely and moving his entire law practice to Mac-based systems, computers, and devices. Further, to both document his process and to create an online reference point for lawyers who wanted to follow in his footsteps, he created The Mac Lawyer blog in 2006, and it has remained one of the top, go-to legal technology blogs ever since.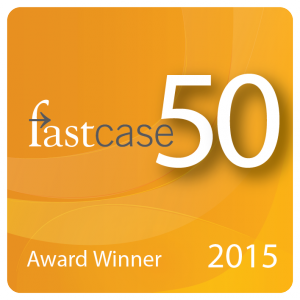 Fastcase received a record number of nominees this year, and Ben is proud to be included the recipients chosen for this tremendous honor. When notified of this honor, Ben said "Since its inception, the 'Fastcase 50' has been widely regarded as the 'Who's Who' of legal technology illuminati. To even be mentioned in the same sentence as the current and past recipients is an honor that is difficult to put into words. It includes friends, colleagues, and many others whom I have admired for years. I sincerely appreciate Fastcase including me amongst such an esteemed group."
Other members of the Fastcase 50 Class of 2015 include Donald Verrilli, Jr. (Solicitor General of the United States); William C. Hubbard (President, American Bar Association); David Sparks (a/k/a MacSparky.com); Hon. Goodwin Liu (Associate Justice, California Supreme Court); John Suh (CEO of Legal Zoom); and David Mao (Law Librarian, Library of Congress). You can read more about Ben's award and the 49 other recipients here.