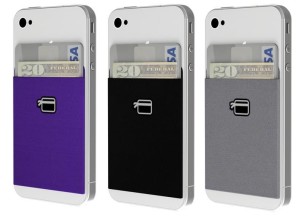 For most busy professionals, there are two things that we must have with us the majority of the time: our smartphones and our wallets. What if those two items could be combined in an ultralight, secure, yet minimalist way? They can!
CardNinja from Cubi is an ultra-slim holder that quickly and easily attaches to the back of your iPhone (or anything else). This enables you to keep up to 8 cards (driver's license, credit card, business card, key cards, cash, etc.) with you so they will be accessible when and where you need them.
You've probably received a rubber or silicone case like this before as swag at a conference, but what makes CardNinja the ultimate iPhone wallet is that it is made from a spandex blend, which makes it noticeably lighter and thinner than those, yet it still attaches to the back of your device with a secure 3M adhesive that can be removed without leaving any residue on your phone.
The CardNinja comes in 15 colors and designs, with pricing ranging from $9.95 to $11.95. It has been praised by the likes of David Pogue, Cult of Mac, The Wall Street Journal, and MacWorld (and now The Mac Lawyer). It's now attached to my iPhone, and I absolutely love it. You can check it out, learn more, or order one for yourself here.