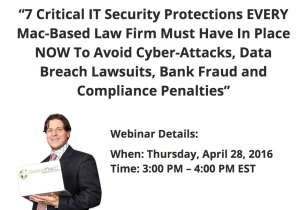 Are you a Mac-using attorney? Do you know about all the new threats to your data? Do firewalls and antivirus software merely give you a false sense of security? Are you or your firm a "sitting duck" at risk of losing everything in your bank account in an instant… not to mention the insult to injury of government fines and penalties for non-compliance to data breach laws.
Does that get your attention? Well, the good news is that there are some simple protections and precautions you can put in place to drastically reduce your chances of being a victim. Tech expert Tom Lambotte of GlobalMacIT will present a free security webinar, "7 Critical IT Security Protections EVERY Mac-Based Law Firm Must Have In Place NOW To Avoid Cyber-Attacks, Data Breach Lawsuits, Bank Fraud and Compliance Penalties" on Thursday, April 28, 2016, 3:00 PM – 4:00 PM EST.
You can get more details and register for this webinar here. I hope to see you there.