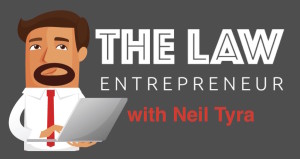 Time is the one thing that I (like most busy attorneys) simply don't have enough of. I enjoy learning, and podcasts are a great way to do so. Even though I enjoy them, but I am very discerning in selecting the ones that make the cut and find their way onto my playlist (in Overcast, which, by the way, is awesome).
I wanted to write this post to highlight a new addition to the few selected podcasts I follow – The Law Entrepreneur with Neil Tyra. Neil is an attorney who owns his own firm and has been practicing in Maryland (just outside of DC) since 2004. The stated goal of his podcast is to address "what they didn't teach us about running a business in law school" – because that's one of the areas that most law schools fall woefully short.
Neil's podcast covers topics that help his listeners understand the many complexities of owning your own law firm, especially solos and those in small firms. Let's face it, being an entrepreneur is not easy; being a successful attorney is not easy; and combing the two is not for the faint of heart. One thing Neil does that I love is he offers transparency by discussing some of the mistakes he made in his own firm along the way – which I think is wonderful and wish more people were willing to do.
Even though I graduated with honors with an undergraduate degree in financial management with a minor in accounting, I freely acknowledge that there were so many things that I didn't know about running a firm when I left my old firm to open my own one in 1996. As with most things in life, I learned many things "the hard way", but those missteps were very educational to me. In fact, that is one of the reasons that I teach so many CLE classes, because I enjoy sharing what I've learned with others.
The Law Entrepreneur podcast features interviews with successful attorneys (both solos and those from small firms), along with other bright and successful entrepreneurs who aren't necessarily in the practice of law, to educate his listeners about creating, running, and managing a successful business in the internet era. Each episode is around 30 minutes, which is ideal for most people because they can listen to it while commuting to/from work (which I do during my 10-15 minute drive).
One of Neil's best episodes to date is the one with my buddy, Victor Medina from New Jersey, who discusses how he successfully transitioned his law practice from educational law into estate planning & elder law, while managing to grow his practice and branch out into financial services along the way. Big changes executed masterfully over a short period of time with great results – what more could you want?
Neil and Victor's discussion was fascinating, and you can access it here if you want a preview (which you can access ). To find out more about The Law Entrepreneur click here, or to subscribe via iTunes click here. I am confident that you will be glad you did – and Neil, keep up the great work!