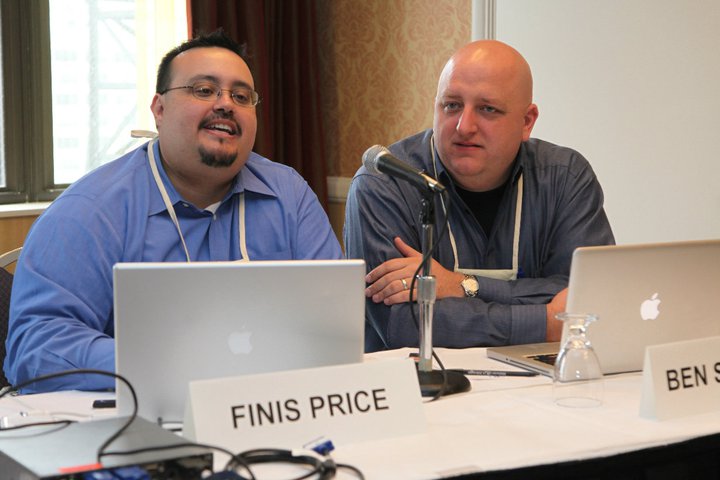 Today's the day. Four years. 1,460 days. 35,040 hours. Each painful and filled with an overwhelming sense of loss. I have written an memorial and tribute to my fallen friend each yar since his passing, and today will be no different, though it may be a little more personal (and a little longer). I hope that you'll continue reading, but if you don't it's ok. This is being written for him, not for any of us anyway.
They say that time heals all wounds, but I beg to differ. I remember like it was yesterday, sitting in mediation and receiving the news that the worst had happened and Finis was gone. I am thankful that I had not one but two seasoned co-counsel to take handle the case, because I certainly couldn't at that point. The next twenty-four hours were a blur – trying to process the shock, the long drive to Louisville, and trying to find words to say after I arrived.
How could this even be possible? I had just spoken to him a few short hours before, and his last words "Thanks buddy, you're the best" were still echoing in my ears. I would never hear "Benny boy!!!" – though I never quite figured out why he called me that, as no one else has before or since. Never again would I hear it. Never again could I call my "lifeline of tech knowledge" to give me the answer in about 2 seconds that I have been struggling hours to figure out. If I had any idea that was going to be it, I would have moved heaven and earth for it not to be.
We all have them.  Those friends who we know are always there, even if we don't talk for periods of time. Finis was like that. A few weeks might pass, but when we spoke it was if no time had passed at all. Those are your true friends, the special ones, and they are rare. Most of us have very few to begin with, which makes having one snatched unexpectedly even more cruel and harder to deal with.
Some people say "just get over it" – and I can't repeat here what I want to say back to them because it's not something that's said in polite custody. Until you've walked in those shoes (which is something I truly wouldn't wish upon my worst enemy or even Satan himself), you don't even have an inkling of how it feels or how to begin to process the multitude of emotions that are can be completely overwhelming at times.
Every year that passes, I hope and pray that Finis' passing will somehow be easier to deal with… that the pain will hurt just a little bit less… that some random thought won't trigger misty eyes and the blues… that maybe something will provide some peace and understanding. However, that's not yet been the case, and February 16th is a day that I dread and, if I'm being truly honest, hate. Billy Joel was right when he said "only the good die young" because there's not shortage of people who are much worse and who should have gone long before Finis, myself included.
There used to be this mythical, unicorn-like podcast called "MILOchat Weekly" that was hosted (at various times) by Victor Medina, Grant Griffiths, Finis Price, Randy Juip, and me. Our sponsor was our buddy, Larry Port of Rocket Matter. Though we never ever put out anything "weekly", we had a blast doing it, and those were great times. It's probably alive somewhere on the Internet if you're interested, though I can't bring myself to listen. I emailed some of them yesterday to ask them to share their recollections of Finis, and they were gracious enough to respond as follows:
Victor Medina:
Anyone who met Finis understood three things about him within minutes of meeting him. First, he loves to help people. Second, he loves to laugh. And third, he loves tech (specifically Apple). There was no way to avoid learning this about Finis.

The first time I met Finis in person was in Grapevine Texas at an Apple conference for lawyers. (Check). The room has having trouble logging into the Wi-Fi (back in the day where Wi-Fi or even cellular data wasn't ubiquitous). Finis took it upon himself to literally hack the router so that everyone in the room got Wi-Fi immediately. (Check).  And, nothing was more fun than having breakfast with him the next morning (and Ben) doing nothing but laughing — I barely to finish my food.

I miss Finis a ton. The world is so much lonelier with him gone.
Grant Griffiths:
I had the privilege of getting to know Finis not just as another Mac user. But as a friend. There was never a time Finis didn't have the time to help or answer questions. 

Usually we would end up just visiting about "whatever".  I do miss those calls. 
Randy Juip:
Finis was amazing, in every meaning and sense of the word. I recall one time – shortly after I had met him – I posted to MILO about a problem that I was having converting a video file. This was at 4:30am the morning before I was set to give opening statements. Finis not only replied – in minutes – but called me and personally walked me through what I needed to do to fix my issue. At that time, I was dumbfounded by his knowledge and generosity. To this day, I am continually dumbfounded by the fact that everyone seems to have a similar Finis story – a memory of Finis going the extra mile to help others.
Larry Port: 
In the early Rocket Matter days, I informed my wife that I was driving down to Fort Lauderdale to meet a man I met on the Internet. It sounds much worse than it was. Finis Price and I connected over Twitter and the MILO group, and we became really good friends.

I think about him a lot.  His presence is never far.  His portrait gazes out over the Rocket Matter ping-pong table. Finis would have been super-jealous of the iPad Pro I just got, complete with Apple Pencil and Keyboard.  He would be disgusted with me for also trying out the Microsoft Surface. Years working as a sys admin in college in the Windows 95 an XP days left him with a lingering dread of anything from Redmond.

Finis knew more things about more things than anyone I've encountered.  He thought I was cool because I was a software architect.  I thought he was cool because he was a lawyer AND a technologist and loved to read.  I would call him and talk about books, although he was a much better reader than I was.  We had similar tastes (we both couldn't stand Atlas Shrugged).  He was way more into sci-fi than I was, partial to Philip K. Dick.  In fact, the last book he recommended to me, the day before he passed away, was A Scanner Darkly.

Finis was great.  Loved that guy.  And I miss him very much.
Those of you who had the privilege to meet Finis understand how true the above statements are. For those who did not, the world is a worse place without him. Finis was one of a kind, and I miss him daily. I grieve for him and I pray especially today for Ray, Heather, and the many, many others that love him. The law is a difficult profession, and many of us have wrestled with that bear. It won in that case, and I hate it for that. Too many of our colleagues have left us far too soon. Hug those you love and tell them how much they mean to you, because it just might be your last opportunity to do so – you never know. I know that my last call with him would have lasted longer than a few minutes if I had any idea. The photo below was taken in November 2013, which was the last time that we saw each other. Rest in peace, buddy. You were loved and you are missed.