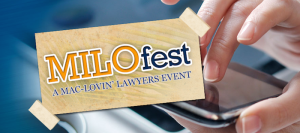 Are you an attorney that uses Macs, or would you like to be one? Ether way, you're in luck. MILOfest is a legal technology conference for Mac-using lawyers, and it offers practical and substantive tips on Macs, iPhones, and iPads. It will be held this year from November 12-14, 2015 at the Disney's Yacht Club Resort in Orlando, FL.
I am honored to be part of this year's faculty, along with numerous other Mac illuminati. If you have been debating whether to attend (hint: do it!), you're invited to attend a free Executive Teleseminar on Monday, September 21st, 2015, which will discuss:
How MILOfest can keep you up to date on the latest tips and how to use Macs in your law office, for only a few billable hours
The risks of falling behind technologically – and why MILOfest is the single best conference that experts both attend and contribute to so they can ensure this does not happen to them
How to leverage technology to reduce bottlenecks in your firm and increase productivity; making a measurable financial impact on your profits
The #1 business reason why the most well known and respected Mac-using attorneys come back to MILOfest, year after year
Why running a firm on Macs without leveraging the best tools available gives you a false sense of IT productivity
Join Victor Medina, Mark Metzger, and me on Monday at 1:00pm (eastern) for this free Executive Teleseminar to learn more about MILOfest 2015. Click here to register or get more information.