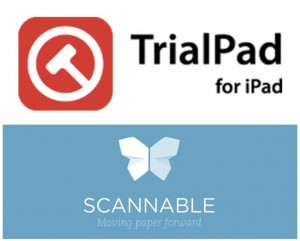 The following Guest Post is provided exclusively to The Mac Lawyer by my buddy, Ware Cornell, a Board Certified Civil Trial Lawyer and 2015 Super Lawyer, who practices in Florida. Ware has been a long time reader of this blog, and he has provided several other great Guest Posts over the years which you can view and read here. He asked last week if I thought my readers would be interested in learning how he uses TrialPad and Scannable together to maximize his efficiency, and I'm pleased to present his article below. I hope it's helpful to you and your practice.
Background
When I started practicing law, my first assignment relative to the courtroom was to lug in a couple of "trial bags" and organize the file on counsel table for my boss. By organizing and understanding the file in order to anticipate what would be needed and when it would be needed, I was taking an invaluable step on the road to becoming an actual trial lawyer myself.
Forty years later, I am still analyzing documentary evidence and organizing it for presentation. The forty pound trial bag is gone. When I go to trial these days, I take a notebook with hard copies of exhibits to be admitted, one legal pad, and my iPad Air 2.
I am still engaged in organizing evidence, examining witnesses, preparing instructions, and making opening and closing statements. But what replaces the forty pound trial bag? What functions as well as two paralegals and four file cabinets which were brought into the courtroom by a BigLaw opponent?
There are two principal apps that I use: (1) TrialPad from Lit Software and (2) Scannable from Evernote. I start using them at the beginning of the case and all throughout discovery. There are a few other apps that help me along, namely WD MyCloud which connects directly to the MyBook Live Duo, a network-attached storage device, which functions as our office network and storage center. Using the My Cloud app, I can retrieve any document from the office and view and save it on my iPad. So if an issue comes up in the trial over a discovery motion that is not already saved on TrialPad, I can quickly retrieve it.
TrialPad
TrialPad is my organizer. It forces me to think about the elements of my case and how I am going to present it. It also allows me to put documents in a central folder and in the witness folders for introduction or cross examination. Once in a folder my case looks like this: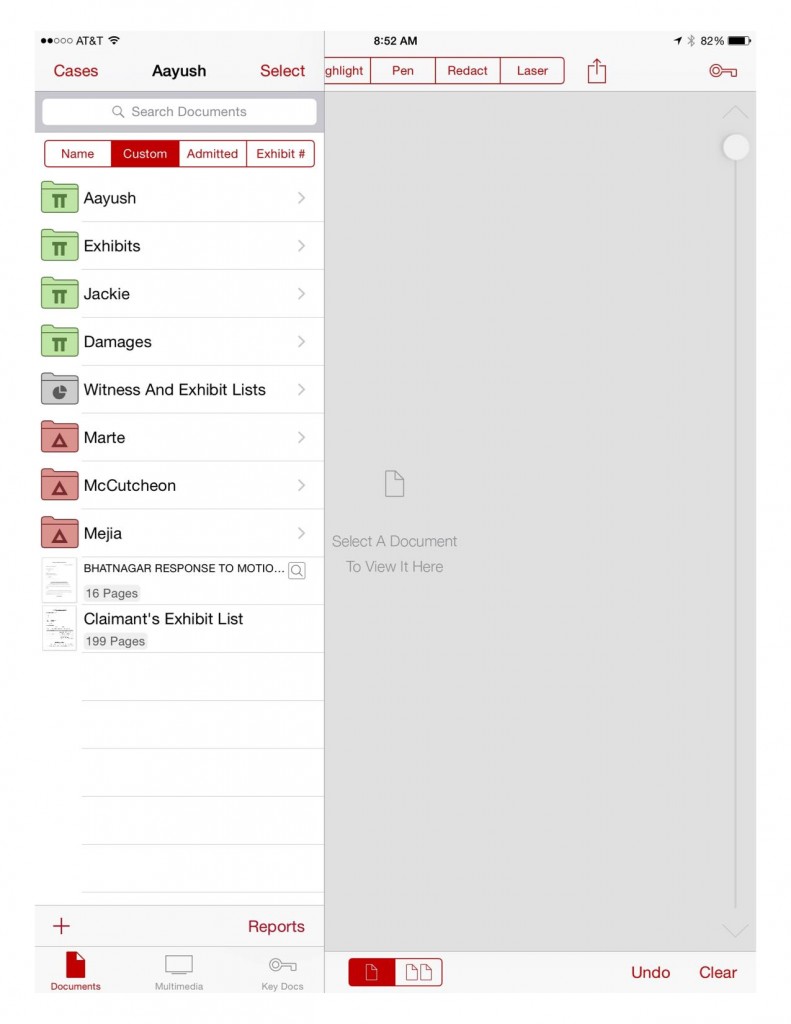 As you see, I use green internal folders with a Pi sign for the Plaintiff's case and red folders with Delta embossed for the Defendant's case. Normally I would have folders with significant orders, the pleadings, jury instructions, opening statement and closing argument. This particular case was a short arbitration and closing argument was submitted post hearing in writing.
TrialPad is very flexible and it is easy to add documents to witness folders for cross examination or to the argument folder for handy reference. As to closing argument TrialPad has an output feature where exhibits, powerpoint, and even video can be presented to the jury by projector or video link.
Scannable
Now what is Scannable and why do I put it in the same pantheon as TrialPad. Scannable is an Evernote app that uses the camera on an iPhone or iPad to capture a document and create a pdf file. Unlike other apps, the Scannable "finds" the four corners of a document and automatically snaps it. This means you do not have to focus or press the button to take a picture.
I use it in depositions extensively. As most trial lawyers of a certain age know, the days of making speaking objections or generally misbehaving are over. When your client is being deposed, you pretty much have to sit there, objecting only to the form and without the ability, except in areas of privilege to instruct a client not to answer. This is, for me anyway, a very boring time, listening to a client tell a story I heard on intake and in depo prep.
In order to avoid taking home lots of paper exhibits of which I probably already have copies I began to use Scannable to preserve the exhibit as a pdf. But then what, I needed to put exhibit numbers on each document. Then I remembered a TrialPad feature. TrialPad allows you to attach exhibit stickers to any document. Further more it numbers them consecutively (even if exhibits are alphabetically marked).
Scannable automatically saves to Evernote, and then asked if you are do or want to "Share Again". Sharing again enables you to save to other apps including TrialPad. In the case folder in TrialPad I will create a deposition exhibit holder and export my Scannable pdf to it. I then add an exhibit sticker to the document and rename if necessary.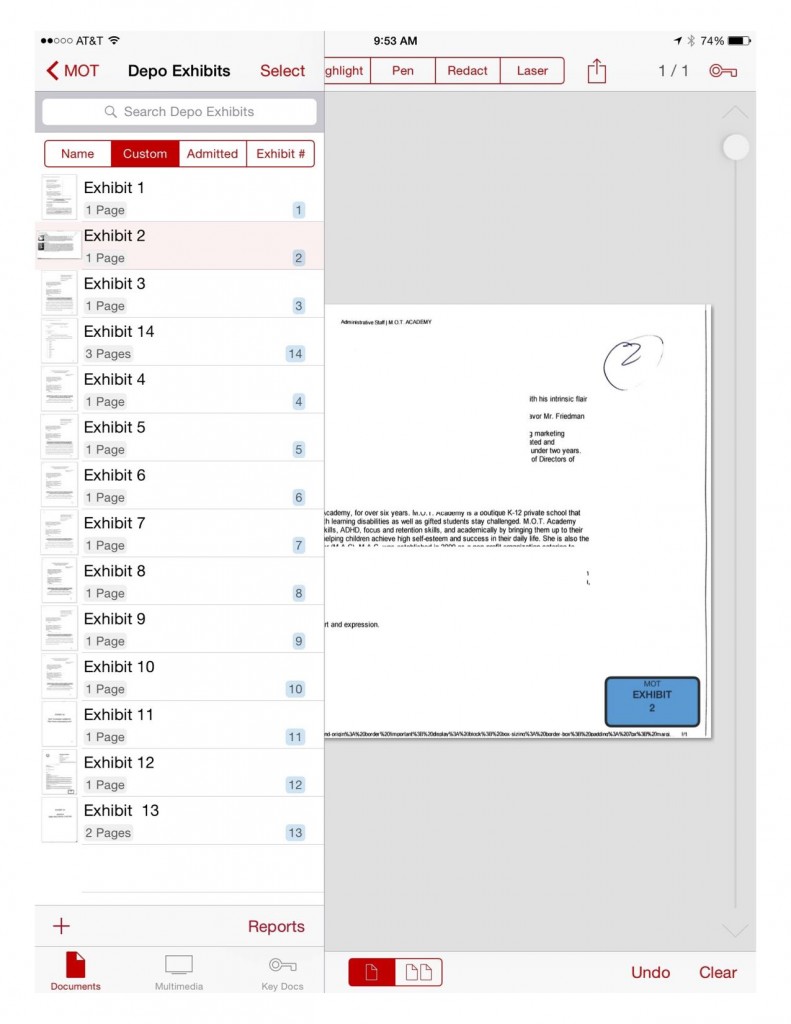 Scannable is a free app but Evernote will sell you two feature packed versions for $29.99 and $49.99 annually, TrialPad is expensive at $129.99. It is well worth the price.
About the Author: G. Ware Cornell, Jr. is a 2015 Super Lawyer and Board Certified Civil Trial Lawyer in Weston, Florida. Ware graduated from Emory University and the University of Georgia School of Law. He served as a federal law clerk in the Southern District of Florida. Ware is AV®-rated by Martindale-Hubbell, a 2014 Super Lawyer in the field of Employment and Labor Law, and a Fellow of the Litigation Counsel of America. His interest in computers began in 1984 when he saw a commercial during the Super Bowl. He immediately bought the original 128kb Macintosh. He has reviewed computers, software, and gadgets of all kinds in addition to books as an Amazon top reviewer.