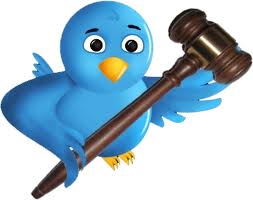 Are you a lawyer? Do you tweet? Do you like lawyers who do? If so, you're in luck, because Tim Baran compiled a list of "50 forward-thinking lawyers" on Twitter that he recommended people follow to keep abreast of "what's shaping the legal profession." So who are these lawyers on Twitter?
Tim's list included such legal illuminati as Kevin O'Keefe (@kevinokeefe), Lee Rosen (@LeeRosen), Ernie Svenson (@ernieattorney), Tom Mighell (@TomMighell), Matt Homann (@matthomann), Catherine Reach (@catherinereach), Rodney Dowell (@rodneydowell), Dennis Kennedy (@denniskennedy), Stephanie Kimbro (@StephKimbro), Nicole Black (@nikiblack), and Jim Calloway (@jimcalloway) – all of whom I'm proud to call friends. Tim was also kind enough to include @TheMacLawyer on this list, and I certainly appreciate it.
Source: "50 Lawyers You Should Be Following on Twitter" by Tim Baran, published at Legal Productivity.