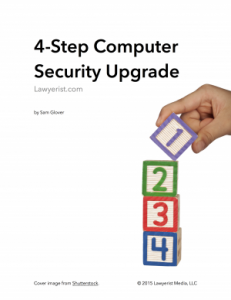 Is your computer secure? Seriously, just between us, is it really secure? Secure enough that your clients would sleep soundly if they knew all the details? If pressed, would the powers-that-be conclude that you met your ethical obligations set forth in the Rules of Professional Conduct?
If you had to pause (even for a moment) to think about the answer to any of those questions, I have both good news and bad news for you. The "good" news is that you are like many other lawyers – who generally lag behind the technology curve. Far too many law firms would earn a "D" (at best) if they were graded on their computer security.  The bad news is that saying "I didn't know" isn't a sufficient response – to a client, a malpractice claim, or an ethical complaint.
Rule 1.6(c) of the ABA Model Rules of Professional Conduct states: "A lawyer shall make reasonable efforts to prevent the inadvertent or unauthorized disclosure of, or unauthorized access to, information relating to the representation of a client." Pay close attention to the verb, as it states shall, not should. This is a requirement – and yes it extends to the information on your computer. Most attorneys are overworked, stressed out, and reluctant to change. These factors are not conducive to staying up to date on the latest technology, and even then, security is often one of the last items to be considered.
However, the "real" good news is that there is help available, today – for only $10. Sam Glover, Editor in Chief of Lawyerist.com, has written a short, simple, easy to follow guide that he claims "will take you from a D- to a solid B on computer security." I have reviewed his 4-Step Computer Security Upgrade, and I agree with Sam and wholeheartedly recommend you buy it.
This computer security guide is a combination of concrete steps and best practices for such important topics as encryption, wi-fi security, two factor authentication, and secure passwords. Best of all, it includes step-by-step instructions for implementation (for both Macs and PCs) that anyone (even a non-tech savvy lawyer) can follow. It does all of this in a mere 35 pages and for only $10. What more could a busy, stressed, time-starved attorney possibly want?
Seriously, do yourself a favor and get this guide today – before it's too late! Click here to learn more about this guide or to purchase a copy.