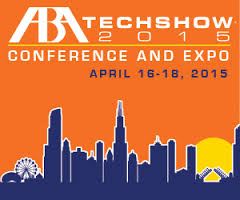 Ben Stevens (a/k/a The Mac Lawyer) will be presenting on several topics at the annual ABA TECHSHOW in Chicago, IL April 16 – 19, 2015. This marks the eighth consecutive year that Ben has been asked to speak at "the world's largest legal technology conference."
Ben's presentations this year will cover the following topics:
VOIP is Ready for Prime Time (with Nerino Petro)
Moving to Mac – Putting Your PC in the Rearview Mirror (with Tom Lambotte)
Family Road Trip to Yosemite and iOS 8 (with Katie Floyd)
Because our firm understands the importance of technology, particularly for South Carolina family law attorneys, so our firm's other attorneys, Jenny Stevens and Jonathan Lounsberry, will also be attending this conference. If you are in Chicago or at TECHSHOW, please stop us and say hello.