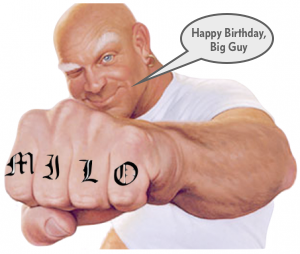 Though I'm a few days late, I want to publicly wish a very happy birthday to one of my babies, the Macs In Law Offices (MILO) forum. This "little idea that could" arose from a conversation Grant Griffiths and I had about our frustration with another then-prominent forum, and it was founded on February 17, 2007.
Over the last eight years, Macs in Law Offices (MILO) has become (by far) the largest legal technology forum for Mac-using attorneys. Today, its membership exceeds 4,500, and it is the premier source for lawyers who want to maximize the use of Macs in their law practices.
MILO's membership roster reads like a virtual who's who of legal technology, from attorneys to software developers, small firms to big firms, and everyone in between. I would like to extend a very special thanks to the following individuals who have each been instrumental in their own way to making MILO what it is today: Grant Griffiths, Randy Juip, Finis Price (RIP, my friend), Victor Medina, and Randy Singer. If you are not yet a member, you can take advantage of this free resource by clicking HERE.