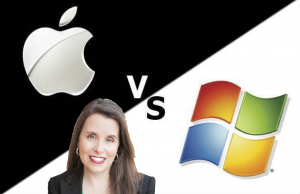 It's no secret that Apple products continue to gain traction in the legal field, and that they are a great option for many attorneys, particularly solo and small firm lawyers. However, changing operating systems or learning a new computer may seem like a daunting task, particularly to a busy lawyer. So what is it really like switching from PCs to Macs?
My wife and law partner, Jenny Stevens (a/k/a @MrsMacLawyer), was recently interviewed by Heidi Alexander on The Legal Toolkit to discuss "Making the Transition from PCs to Macs in Your Law Office". Jenny discusses her switch from a PC law office to one using exclusively Apple products, and she shares her thoughts as to how easy it is to switch, some of the resources available to those considering making the move, and what software that we use at The Stevens Firm, P.A. Family Law Center.
The Legal Toolkit is one of the leading legal technology podcasts, and if you don't already listen to it, this would be a great episode to begin doing so. Click here to listen.