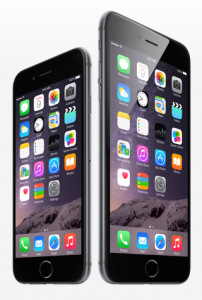 Both The Mac Lawyer and Mrs. Mac Lawyer got new iPhones within the last few weeks. If you have gotten a new one too, you should consider the following steps from Macworld.com to easily set up iPhone 6:
Back up your old phone. Plug your old iPhone into your computer; go to iTunes; s

elect your iPhone; under Backups, choose This Computer; and click "back up now"

. Pro Tip: If you select "

encrypt local backup", 

your account passwords are stored so that you won't have to enter them all again – and you also get 

maximum privacy protection too.

 

Restore from backup. Plug your new iPhone into your computer, navigate to iTunes, and then 

restore form the backup you just created. 

Finish the setup. E

nter your iCloud account password, enter a second security code if you're using two-factor authentication (and you should be), agree to the iCloud terms and conditions, and designate how people can reach you over iMessage and Face Time. 

Set up your Touch ID. Simply follow the instructions on your iPhone, which will involve you 

repeatedly touching the home button's fingerprint sensor with your thumb so that it can learn your fingerprint. You will probably want to add your other thumb at 

Settings > Passcode for added ease of use. 

Pick a size with Display Zoom. You can choose between standard view and zoomed view. The latter simply enlarges everything, which I can tell you is much easier on older eyes.
Peruse the settings. Check out the new options and the ones that were brought over from your old iPhone.
Update your apps. Go to the App Store app and update all of your apps. You can easily 

have all your apps auto-update by going to Settings > iTunes & App Stores > Automatic Downloads. 

Install some widgets. Simply pull down from the top of your screen to show your Notification Center, scroll to the bottom, tap Edit, and then choose which apps' widgets you want to include. You can select from 

upcoming appointments, package-tracking, Kindle status, and many others.

Open the Tips app. This new app provides helpful

 tips about using your new iPhone, delivered in handy, bite-sized chunks.

Set up Apple Pay. Load your

 credit or debit card and speed up your checkouts. Remember, this does not 

expose your real credit card info to the stores, so you don't have to worry about getting a new card if/when that store gets hacked

.