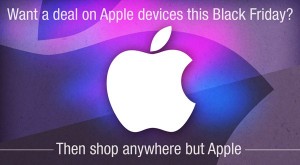 Contrary to what many people think, Apple items do go on sale, and Black Friday is an especially good time to snag a deal on an iDevice.
So what's the best way to get Apple goodies on sale? Rule number one: Do not buy from Apple. Rule number two: Check out the article from DealNews before you buy.
Some of the highlights of their Black Friday predictions for 2014 include:
You can learn more about what to expect at DealNews, and you should consider subscribing to the DealNews Select Newsletter to get a daily recap of all of their deals or downloading the DealNews app.