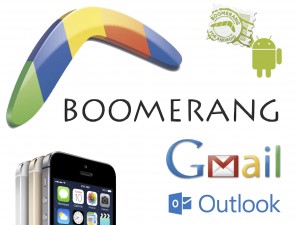 What if you could take control of your email? You determine when emails appear in your Inbox or when they were sent to your recipients. What if your email could automatically remind you if don't hear back from a recipient?
All of this – and more – is possible thanks to Boomerang, a plug-in for Gmail and Outlook that can help you transform from email novice to email ninja in no time. This plug-in helped me reduce the average number of emails in my Inbox to less than 10 (down from a number that I'd be embarrassed to mention).
It is not an understatement to say that Boomerang is one of the best and most helpful applications that I have ever found. It enables me to control my email instead of it controlling me. Boomerang has many more features than I can cover in this article, so please visit their website to learn what all it does and to view demonstration videos. However, I have highlighted some of the best features below: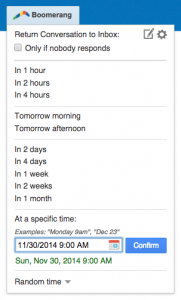 Make emails reappear. One of the best features of Boomerang is its ability to take emails from your Inbox and then make them reappear at a later time. For instance, if you receive calling instructions for a meeting next week, you can set it to return 15 minutes before the start time instead of allowing that email to clutter your Inbox in the interim. You can even add a note to the email to remind you why you wanted it to be returned.

Send emails later. You can schedule an email to be sent at the perfect time. When you finish writing the email, the "send later" button enables you to determine exactly when the email will be sent. Even better, you can specify the desired time in many different ways, whether that's "in 10 minutes", "tomorrow morning", or at a specific date/time (12/03/14 at 5:34pm).

Remind you to follow up. You can tell Boomerang to return an email to your Inbox if you don't receive a reply within a specified time, if the email is not opened within a designated time frame, or if you just need to see it again as a reminder. It also enables you to get "read receipts" and track when emails have been opened – even in Gmail, which doesn't provide this functionality natively.