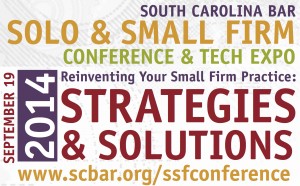 The South Carolina Bar's Solo and Small Firm Conference is being held in Greenville this Friday, and its theme is "Reinventing Your Small Firm Practice: Strategies and Solutions." We'll investigate the latest trends in technology and explore alternatives to traditional law practices.

Ben Stevens will be giving two presentations at this conference:
Are You Mac-Curious? If Not, You Should Be!
Amazing Apps, Practical Practice Pointers, Terrific Tech Tips & Wonderful Websites
If you haven't made plans to attend, you should. If you do attend, please find me and say hello.