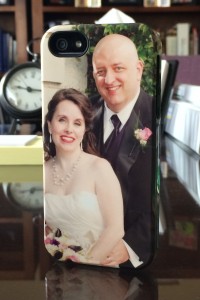 SkinIt was generous enough to allow us to create an InkFusion custom iPhone case to test and review. As my husband Ben (TheMacLawyer) has said before, he prefers his iPhone to go "naked", so I was the lucky one to get to design a cover just for me.
While reviewing the design and product specifics on SkinIt's website, I was excited to read that these covers are printed with the highest resolution print technology available today. The print is then sealed with a smooth, glossy clear coat finish which helps prevent fading and chipping and also further protects your phone from scratching.
When designing your cover, you can choose from over 400 licensed brands or over 7,000 designs provided by SkinIt. Or, you can do what I did, and choose your own image in the SkinIt Customizer and add text and shapes to create your very own unique case. The cover offers "edge-to-edge color" and they are made of "tough, lightweight, high specification Amorphous Thermoplastic" (a.k.a. really good protective stuff to make sure your phone doesn't get accidentally damaged).
They offer "Lite" and "Pro" versions, and the price points reflect the two levels of protective layers. Each version offers their ultra vivid and razor sharp color print technology. The cases are available for the iPhone series, some iPods, some iPads, and even the Galaxy S phones. I received my finished product, a "Pro" version for the iPhone 5,  about 2 weeks ago and have been using it ever since. Here's a quick run down of my thoughts:
Pros: Very slick design, easy to hold and just feels good to use. I haven't dropped my phone on any truly hard surfaces, but when I have allowed my phone to slip out of my hand onto a desk or counter, the phone case seems to absorb the impact well. I get a lot of attention and questions about the case. No one can get over how sharp the image is and how professional the quality. It's hard to tell it was custom and looks like any other image case you can buy with a mass produced stock image.
Cons: The one and only con I can find about this case is that having the second impact absorbing liner, which is part of the "Pro" package, makes it difficult to press the top button to put the phone to sleep.
You can get more information about SkinIt's InkFusion cases and/or order one for yourself here.