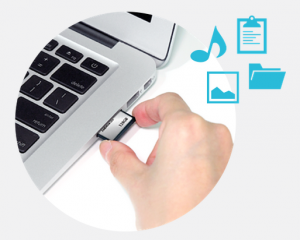 One of the few deficiencies associated with solid state drive equipped Macs is the comparatively small size of internal storage. In an era where 500 GB is the norm and even 1 TB is common, a 256 GB drive is small.
When I bought my 15 inch Mac Book Pro with Retina Display, I rationalized that with iCloud and other cloud storage options the loss of half of my hard drive would be find compensation in the increased speed and reliability of a SSD. To some extent those assumptions were correct. Nonetheless I often found myself managing drive utilization trying to keep at least 10% of the total storage space open.
Transcend provides a solution. For slightly less than $80 and a Jet Drive Lite 350, I have increased my drive space by fifty percent. The Transcend Jet Drive Lite is essentially a High Capacity SD card which installs into one of the existing SD ports on MacBook Air and MacBook Pro. 

There are four different model cards, and you should carefully consider the chart before ordering. Each card is tailored for specific machines and is designed to be inserted into the port and lie more of less flush against the case, not sticking out like a normal SD card. The normal card can be spring ejected. This is not so with the Jet Drive Lite. It is very difficult to remove, and since it is in effect a secondary SSD that permanency is a virtue. I have inadvertently "ejected" the card in the Finder only to discover it simply disconnects. The simplest recovery mode is to log out and then log back in and the drive is automatically recognized.
The card comes in a box, with warranty information, and nothing else. The limited lifetime warranty, if you can read it without an electron microscope, is quite good. You should make sure however that your card data on it is being backed up regularly. I use Time Capsule and the setting on  installation excluded the Jet Drive Lite. I think the reason for this is that the drive  appears to your Mac to be no more than a temporary SD card and SD cards are not backed up unless you change your settings.
So having a card and an open port I pressed it in. Since the card doesn't eject, there is no "click" associated with my effort. However an icon appeared immediately on my desktop, and I knew my MBP was reading the drive.
My first thought was that I would move all my photos and videos to the Transcend Jet Drive Lite 350. Immediately I received a message- "The destination disk is not properly formatted." Indeed it was not, and that is peculiar. We are looking at a product designed exclusively for newer Apple laptops, and the card was FAT formatted. It takes less than a minute to reformat the card to Mac OS Extended (Journaled).
Once the disk was reformatted I moved my entire Aperture Library to the Jet Drive Lite . I am a lawyer, not a technician, but it seemed to me that the transfer speed was quite fast, at least as fast as my USB 3.0 flash drive and possibly as fast as a Thunderbolt device. All in all, the Transcend Jet Drive Lite meets a lot of my needs. The price and the huge capacity should justify you giving it a try.
About the Author: G. Ware Cornell, Jr. is a Board Certified Civil Trial Lawyer in Weston, Florida. Ware graduated from Emory University and the University of Georgia School of Law. He served as a federal law clerk in the Southern District of Florida. Ware is AV®-rated by Martindale-Hubbell, a 2014 Super Lawyer in the field of Employment and Labor Law, and a Fellow of the Litigation Counsel of America. His interest in computers began in 1984 when he saw a commercial during the Super Bowl. He immediately bought the original 128kb Macintosh. He has reviewed computers, software, and gadgets of all kinds in addition to books as an Amazon top reviewer.