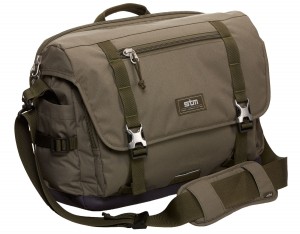 STM has been creating comfortable, secure, and stylish ways to transport laptops and other digital gear since 1998, and I have used (and reviewed) several of their products over the years. They were kind enough to send me one of their new Trust Medium Laptop Messenger Bags a couple of months ago to review.
Since receiving the Messenger Bag, I have put it through its paces. For instance, it has traveled with me on a week long trip to Mexico, a few days out West, an overnight trip in SC, and everywhere in between. The short review is that I thrilled with it and highly recommend it, but keep reading to let me explain why.
First and most importantly, it provides outstanding protection for your laptop and other tech gear. the protective compartment is designed for a 15″ laptop, but my 11″ MacBook Air fit just fine without too much wiggle room around the edges. It is padded on both sides and is accessible from the top without opening the front flap, which comes in handy when going through airport security checks.
The protective front flap has a lined pocket on its outside, which is a great place to store your iPhone, headphones, sunglasses, or other items that you may need while on the go. Upon opening the flap, you immediately see two easy-to-access zippered compartments, one of which has dividers for pens, business cards, etc. along with a clip for your keys.
Fully opening the flap reveals the cavernous interior – I mean that in the best possible way. It is easy to fit a change of clothes or two (including a pair of shoes) inside. However, if you don't need all that space, the bag is made in such a way that it folds to help minimize it. In other words, it doesn't seem like a huge bag, but it has the space there if you need it. The interior also has a padded pocket that is perfect for an iPad or iPad mini, along with more dividers for power cords, batteries, etc.
The Messenger is much lighter than you would suspect, weighing a mere 2.5 pounds. The zipper and pulls are high quality, and the padded, non-slip shoulder strap is comfortable and easily adjusts to accommodate both shoulder to cross-body wearers. The water resistant exterior features side water bottle pockets, reflective loops for better night safety, and an exterior pocket for quick access to legal pads, magazines, etc.
Previous reviews of STM products: