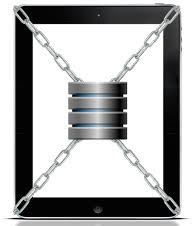 iPad use continues to increase in the legal field, and millions of attorneys use them to work on their clients' cases every day. In light of our ethical obligation to safeguard and protect our clients' information, we should take all reasonable steps to ensure that the information on our iPads is secure and out of the reach of thieves and hackers. The following tips and suggestions can help you keep your iPad secure:
1. Don't leave it lying around. iPads are easy targets for thieves, so don't let yours out of your sight when in a public place. Also, don't leave it in plain view in your car or you might end of up with a broken window too.
2. Use a passcode. Although it's not 100% hacker-proof, it will block unauthorized users from accessing your information.
3. Consider enabling automatic data erasing. You can configure your iPad to erase your data after 10 failed pass-code attempts. However, this may not be a good solution for anyone who constantly forgets a password or for those who have kids trying to log in repeatedly.
4. Encrypt your hard drive. On your iPad, simply enabling the password will turn on encryption. All iOS devices also come with a second layer of encryption (called data protection) that protects your e-mails and attachments. This protection can't be broken, even if the passcode is stripped.
5. Enable iCloud Find My Phone. This is a valuable tool to use if your iPad is misplaced. With it, you can log in and find your iPad and/or remotely wipe it if you have sensitive data on it.
6. Install software updates. As with all software, make sure you have the latest iOS security updates installed to protect against hackers and viruses.
7. Only connect to trusted WiR networks. Public WiFis are open territory for hackers and identity thieves. Whenever you connect, make sure it's a legitimate, secure connection.
This article was excerpted from the Technology Tips newsletter published by Tom Lambotte, President of GlobalMacIT, an Apple-centric IT firm in Northeast Ohio that specializes in business solutions for law firms, small businesses. Their monthly newsletters are an excellent resource for Mac users, and you can access their archive of past newsletters here.