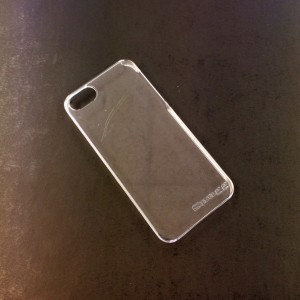 Those that know me well know that I prefer to keep my iPhone in its natural (naked) state, i.e. without a case. Yes, I often get startled looks when I take it out, as I realize that most people today keep their smartphones in any number of the numerous cases du jour.
I prefer to keep my iPhone case-less for two reasons. First, I don't like bulk, and I don't want anything to come between me and my phone. Most of the cases that I have tried feel more like a barrier than anything else, and I have found the iPhone to be so well built that it really doesn't "need" a case (assuming I take reasonable care of it). The other reason is that I simply haven't found a case I like well enough to make me want to keep using it.
Snugg sent me a review copy of their Ultra Thin Clear Case for the iPhone 5S, and I tried it for a few weeks. True to its name, it is very thin and provided easy access to the buttons on the phone, and it was very easy to put on and take off. It's made of polycarbonate, so I would categorize it as providing moderate protection to the phone. As you can see in the photo above, it is fairly easy to scratch, and the scratches are easily visible on this cover.
This cover is available in 12 different colors, from orange to pink to white to black to clear, and it's a bargain at $14.99, with a lifetime guarantee. If you're looking for a thin case, this is certainly one to check out. While I liked this case, it wasn't enough to convert me and my iPhone is back in its natural state. If you've used this case before, I welcome your comments and thoughts below.