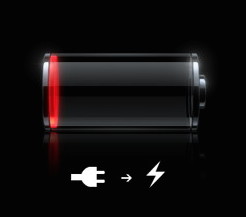 How great would it be to be able to fully charge an iPhone in only 30 seconds? Yes, I said 30 seconds, not 30 minutes. A tech startup called StoreDot (who has already raised $6.25 million to date) is hoping to make this dream a reality, as it claims to have created a battery pack that can fully charge an uncharged phone in just 30 seconds.
So how is this magic possible? StoreDot claims that microscopic magnets called "nanodots" make this game-changing technology possible. Nanodots are described as "bio-organic peptide molecules" that are only 2 nanometers in size. Unfortunately, it appears that mass production won't begin until 2016 as it must figure out how to shrink the technology to fit in existing smartphone designs and how to decrease the cost. You can learn more about this exciting new technology here.
Source: "This Device Can Charge Your Phone In 30. Freaking. Seconds." by Carina Kolodny, published at The Huffington Post.