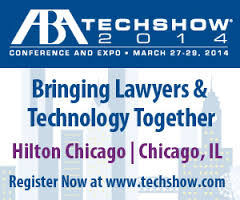 If you are an attorney interested in legal technology, you need to be in Chicago this week for ABA TECHSHOW. From the Expo Hall to John Dean to informative CLEs to Rick Klau, there is truly something for everyone. This marks the 7th consecutive year that I'll be speaking at ABA TECHSHOW, and my topics this year include:
iGadgets and iGear for the iLawyer (with Jeff Richardson) – 

Come learn about the best and latest gadgets to use with your iPad. 

The Business Case for Going All Mac (with Randy Juip) – 

See how going All-Mac can affect not only your P&L, but your balance sheet as well.

Lone Wolf: Being the Only Mac in a PC Firm (with Randy Juip) – 

While more and more attorneys are going "all Mac", many Mac-lovin' attorneys find themselves as lone wolves in all PC firms.
You can follow both me (@TheMacLawyer) and Jenny (@MrsMacLawyer) on Twitter to stay up to date about TECHSHOW. We hope to see you there.