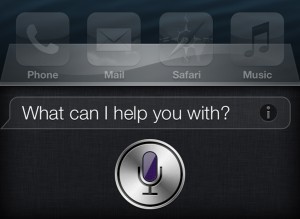 Admit it, we all love Siri. Whether or not we're using her to her fullest potential, we love having her on stand-by for a good laugh (just tell Siri "I love you" or "Why did the chicken cross the road?") or for a confidence boost (tell Siri "thank you" and wait for her response), at the very least.
One of my favorite ways to use Siri, by far, is as my on-the-go assistant when I'm stuck in the car alone driving long distances. Putting Siri to work while I need both hands on the wheel is Productivity 101. Here are three ways she helps me stay ahead of the game:
Voicemail – In this day and age, I don't get nearly the amount of voicemail I used to. The shear dominance of email and texting has rendered the standard voice message somewhat obsolete – at least in my life. However, despite the fact that I don't get much of it, I typically like to return these calls when I'm driving between other appointments during my day. Siri makes that so simple. Ask Siri, "Do I have new voicemail?" or "Play my last voicemail."  When finished playing the message, she will ask "Would you like to call back or play the message again?" Simply tell her to call  back and check one more thing off that "to do" list.
Scheduling – This is certainly one of Siri's finer abilities – keeping up with a constantly changing schedule. Half the time, I have no idea what's on my plate for the day, so on the way into work, I just ask: "Siri, what does my day look like today?" She gives me a run down of my scheduled appointments already on my calendar. When I'm notified of a meeting I can simply tell Siri: "Set up appointment with Dr. Smith at 10:00 AM on Friday." or "Schedule a meeting about our taxes at 4:00 PM today." And, presto, Siri adds those items to my calendar.  Maybe the best thing, especially for this mom of 6 kids with very fluid schedules, is that Siri can expertly handle any change that may come up with only minimal direction from you. Doctor appointment cancelled? Say, "Cancel my 10:00 AM appointment on Friday." Done. Lacrosse practice moved from Monday to Tuesday? Simply say, "Move Lacrosse practice from Monday to Tuesday." Done. If any of the new appointments conflict with your calendar, Siri is also smart enough to catch those too and will alert you, confirming no other changes are necessary.
Finding Food – Anyone who knows us, knows my husband (@TheMacLawyer) and I are foodies. But not only are we foodies, we also love to travel, so when we're in a new city (or even just a big city with lots of variety), we don't always know the best places to go. Siri to the rescue! Tell her "Make me dinner reservations for two tonight at 8:00 PM." That's it. Siri will scour the nearby locations for restaurants that have that availability and serve up a list of possible options organized by their ratings on Yelp. Simply scroll through to find one to your liking and you're set.