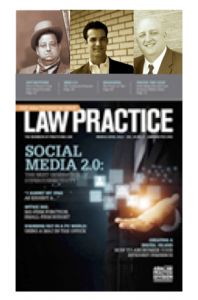 If you are an attorney who is still on the fence about whether to use a Mac in your law practice, you are in luck. The March-April 2014 (TECHSHOW) edition of Law Practice magazine features an in-depth exploration of this topic by three of the most knowledgable folks on the planet (at least two of them are, and I'm rounding up to include myself).
A tremendous amount of hard work went into this article (mainly by Randy and Larry), as we wanted to provide a comprehensive study at this subject, as it's one that comes up over and over. The topics covered in this 2,500 word article include:
iPhone and iPad integration
Ease of use and workflow
Using Your Mac in a PC world
Software (compatible, virtualization, and remote desktop)
Resources for Mac-Using attorneys
If you are questioning whether you should take the plunge, this article should be a huge first step in helping you analyze the factors to consider.  If you know someone else who is thinking about using Macs for business (even if they are not a lawyer), be sure to share it with them.
Source: "Standing Out in a PC World: Using a Mac in the Office" by Randall A. Juip, Larry Port & Ben Stevens, published in the ABA's Law Practice magazine.