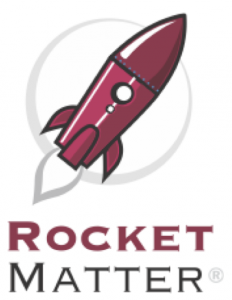 The older I get, the more I am reminded of how quickly time flies. It's hard to believe, but Rocket Matter is now six years old. I received a call one afternoon in 2007 from a guy named Larry Port, whom I'd never met. He introduced himself to me and said that he wanted to get my thoughts on some software he was developing.
Over the course of the next several months, Larry let me know what he had planned for his product, which would come to be named Rocket Matter. I was very impressed with both him and his product, and when it was launched, my law firm was on board as "user #2". During the next six years, Rocket Matter would become the leading mobile time and billing and legal practice management software for law firms.
Today, Rocket Matter announced its "Boldy Go" release, which features "Advanced, Galactic Interdimensional Search" capability (as shown below). This complete overhaul of its Global Intelligent Search allows users to quickly and easily locate any matter, contact, client, tag, or billable activity in the entire system from any screen at any time. This release also features a new advanced search page to allow users to build and save custom queries across those same entities, as well as custom data fields.
One of the features that I've always loved was the speed and ease of navigating within Rocket Matter. Now, it's possible to find even more types of information just as quickly, which increases productivity. "Boldly Go" also includes over a dozen other suggested tweaks from legal professionals, including having the Client Portal and Copy2Contact integration enabled by default.
Larry Port said "So far in 2014, we've rolled out Box integration, and now our newly revamped search. We have a lot more exciting stuff coming down the pike to make life for attorneys a whole lot easier." The best just keeps getting better. If you haven't checked out Rocket Matter lately, take a look – and tell them that The Mac Lawyer sent you!