The Dock is a helpful feature of Mac OS X. It faithfully holds your programs at the ready for you to use. Did you know that there are several Dock tricks and tips that can make it even more useful?
Move to the Side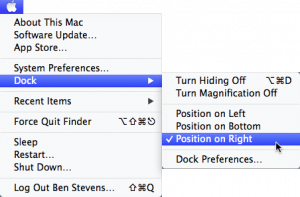 By default, the Dock is located at the bottom of the screen where it takes up quite a bit of real estate on your screen – especially if you're using a laptop. You can reclaim some screen space by relocating the Dock to the left or right side of your screen. To do so, simply click the Apple menu > Dock > Position on Right (or Left). I find this particularly helpful on my 11″ MacBook Air, and my preference is to have it located on the right.
Hide the Dock
Too much of anything is bad for you. You can hide the Dock when it's not in use to gain even more screen space. With this feature activated, the Dock will only appears when you move the arrow to its side of the screen. You can hide the Dock in either of the following ways: (1) Apple menu > Dock > Turn Hiding On, or (2) Go to System Preferences > Dock > Click the "Automatically hide and show the Dock" checkbox. I like this feature a lot, as it provides me with more working space.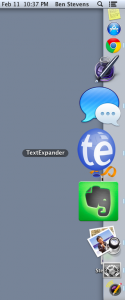 Dock Magnification
Wouldn't it be great to make the Dock as small as possible but still be able to see (and easily access) the programs parked on it? With the Magnification option, you can do just that, and you can control how big or small the magnification should grow to, and how big or small the Dock should appear in its normal state.
From the Apple menu, choose Dock, then Dock Preferences (or open System Preferences and click Dock) to open the preferences. Here, you can move the Magnification slider to control how big the icons will grow. You can also adjust the size of the Dock to make it larger or smaller. I keep my (hidden) Dock fairly large and keep the magnification maxed out.