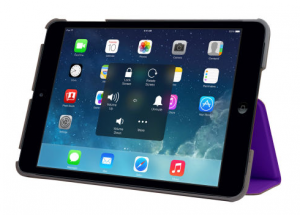 If you're looking for a slim yet super secure and protective design for your new tablet, STM's Studio case for iPad Mini is definitely the case for you. It's wrap-around design literally hugs your iPad and with the magnetic closure, you'll never worry about it opening unexpectedly. It's also very lightweight considering the all-around protection it offers, and the smooth, slim design makes it easy to slip in your briefcase, purse, or backpack.
All of the device ports, control buttons, and camera are easily accessed, and the magnetic cover folds back to lock into two modes for viewing and for typing. The only downside we could find over the last few weeks of testing this product was if you are a "heavy typer" and put too much pressure on the iPad screen when in the typing position, the magnet sometimes failed and caused the iPad to slide to flat. This movement caused no damage to the iPad or to the case, however.
Currently this sleek looking case only comes in purple and black (we tested the purple and loved the color) and costs $39.99. You can get more information about the Studio or purchase one here.