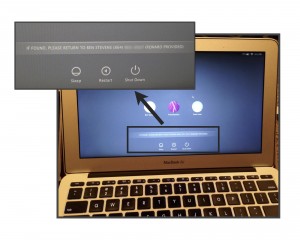 There are some basic steps that every attorney should take to secure their Mac laptops. First and foremost, require that a login password be entered whenever your computer starts or wakes from sleep. If you fail to do so, your data will be accessible to anyone who happens upon your computer.
However, what if a Good Samaritan finds your lost computer, only to find that it is locked, leaving them unable to determine who it belongs to or how to contact that person. I recommend using the steps below to provide a way to reach you even when your screen is locked:
Go to "System Preferences"
Click on "Security & Privacy"
Check "Show a message when the screen is locked"
Click "Set Lock Message…" and enter your desired text
As you can see in the image at right (click on it to enlarge), the Lock Message on my MacBook Air says "If found, please return to Ben Stevens (864) XXX-XXXX (reward offered)". I list my cell number in this message, as I always have my iPhone with me. Also, when people lose their computers, it's most often while traveling, so a home or office number is less helpful.
By following these simple steps, your Mac laptop can protect your data while providing a way to contact you if it is ever lost. Obviously, I hope you never need to use these lock screen security tips, but if you do, I hope they will come in handy.