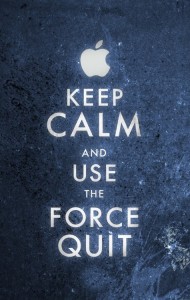 Sometimes applications misbehave, and this post will explain several Force Quit basics for attorneys to deal with them when this occurs. This feature is built into OS X, and there are several ways to access this option. In this post, I will discuss the most commonly used ones, which I hope you will find helpful.
The most common method is to select  > Force Quit…, which brings up a list of all applications that are currently running. You then click on the one you want to end, click Force Quit, and poof it's gone. If you hold down the Shift key when clicking the  menu, the option changes to Force Quit [Current Application] and you can end it directly instead of having to navigate to it.
If you want to avoid having to navigate to the  menu, you can hit Command + Option + Escape to bring up the simple "Force Quit Applications" window, from which you can select the desired app and end it. However, my favorite way to Force Quit is to do so from the Dock, by using Option + Right Click (two finger tap on your trackpad) to bring up the "Force Quit" option.