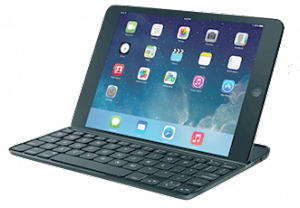 If you prefer to have your keyboard built into your cover, you should consider the Ultrathin Keyboard Cover for iPad mini from Logitech. It performs double duty, providing a fully functioning wireless Bluetooth keyboard and simultaneously protecting your iPad mini.
Its built-in recessed groove holds the iPad mini at the perfect angle for typing and using the touch screen.  Users with large hands may find the keyboard a bit small, but it should be sufficient for most users.
The form factor of the Ultrathin Cover matches the iPad mini perfectly, and it's extremely light, weighing less than one-third the weight of the device. It connects securely with magnetic clips, and it wakes the iPad mini when you open the cover and puts it to sleep when you close it – helping to conserve the batter life of both. The keyboard is rechargeable with the included USB cable, and it advertises up to six months of battery life on a full charge.