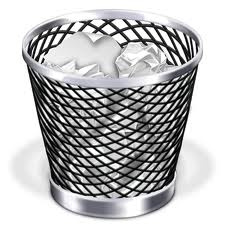 Let's face it, emptying the trash is just not very exciting. You hated it when you were a kid, and you don't like doing it much more now as an adult. However, it's one of those things that simply has to be done from time to time.
You probably know that all deleted items on the Mac end up in the Trash, and that you can Empty the Trash (delete its contents) by going to Finder > Empty Trash. However, this process is admittedly slow and agonizing, just like when you were a kid.
One easy way to save time is to empty the Trash right from the Dock. To do so, simply select the Trash (two finger tap on a touchpad or control + click with a mouse), and a short menu then appears from which you can Open or Empty Trash. If you want to Secure Empty Trash, simply hold down the Command key when selecting it.
Attorneys should generally be utilizing OS X's Secure Empty Trash feature, which erases files more securely by writing random patterns of data over a trashed file immediately after it has been emptied. By way of contrast, the standard Empty Trash command leaves information susceptible to being recovered with special utility software. With sensitive client data, the safest way is always the best way. I hope these trash tips for OS X are helpful to you.