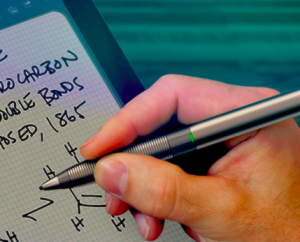 Adonit released its Jot Script stylus in late 2012, and it quickly became one of the dominant players in the market, receiving very favorable reviews from famed tech illuminati including Macworld, Engadget, and TUAW.
What makes this stylus truly unique is its utilization of Pixelpoint™ technology to reduce the tip to a mere 1.9 mm, which is 70% smaller than its nearest competitor.
This fine point places the ink point directly under the tip, and its material mimics the drag of a pen on paper, giving you more control and better expression in every stroke. The result is that handwriting feels more natural and you are able to write more precisely. For attorneys, this can mean the difference between your signature looking like it was signed by an adult with pen or a by a child with a crayon.
The Jot Script is made of aluminum and it takes a AAA battery, so it feels like much more like you are you are writing with a "normal" ballpoint pen than using a stylus. It has also been optimized to work with Evernote's Penultimate notetaking app (as well as other popular apps) to offer the best note taking experience possible.
If you (like me) have ever been turned off by fat tipped styli, then give the Jot Script a try, and it may change your mind. The Jot Script is my go-to stylus, and I really like it. It's also worth mentioning that Adonit makes a Jot Tote case, which snaps onto the back of your iPad mini and features a rubber-lined slide grip drawer that securely locks your Jot Script in place when you're on the go.