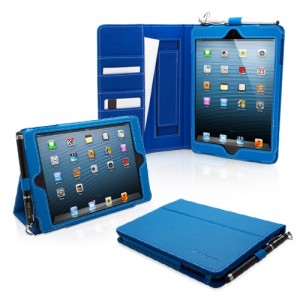 These days it seems that if you've seen one tablet case, you've seen them all. For our Mac-loving family, we tend to push our cases and other accessories to the limits. Our busy travel schedules and six children (who are not always as careful with our electronics as we'd like them to be) quickly take their toll. When Snugg provided us with their latest Executive Case & Flip Stand for the iPad Mini Retina, we were happy to give it a workout.
One of the best things about this case is the super easy installation of the iPad. Some require you to "snap" your device into them, only to then wonder if you'll ever be able to extract it again. This cover offers an easy "slide in/slide out" option with a surprisingly secure velcro tab underneath, which prevents sliding or much movement at all once wrapped around under the device. This, along with the durable, yet very soft leather, virtually eliminates any concern about inadvertent scratching or scuffing on the device glass or back cover.
The integrated stylus loop is perfectly sized for the typical stylus, and it's designed to keep your stylus handy at all time, but out of the way. The inside cover is designed for the busy professional, with a soft, but durable hand strap for holding the iPad during meetings or presentations. It also features several small pockets for keeping your notes or extra business cards handy.
The only 'con' we could find was the stand holder on the back of the case. It is made of the same leather as the case and is supposed to hold the case in two angled positions – one for typing and the other for watching videos or conducting FaceTime calls, etc. We found that it took a while to break it in so that it would hold the case in the right position without popping out but once it was fully broken in, it seemed to work okay. However, since it is made entirely of leather, it's not quite as sturdy as some of the other stands we have tested. This case retails for $39.99 and is available in an amazing array of 14 colors, so there's one to please everyone. You can learn more or order one by clicking here.