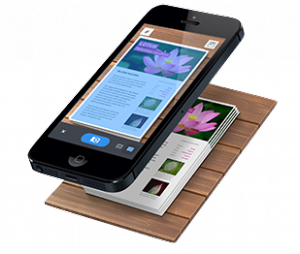 Scanners are an invaluable tool for most attorneys. Do you ever use your iPhone or iPad as a document scanner? If not, you should – as it's very handy when you aren't near a "real" scanner.
There are numerous apps that provide this functionality, but one of the best (and The Mac Lawyer's personal favorite) is Scanner Pro from Readdle – and it's available for free for the next week because it's been named Apple's "App of the Week".
Scanner Pro is one of the most highly rated scanning apps in the App Store, and it turns your iPhone or iPad into a portable scanner for documents, receipts, notes, photos, and more. The app removes shadows, sharpens scans, and corrects perspective in order to make scans as "readable as possible," and it utilizes edge detection in order to create fast, accurate scans, and it stores scans as PDF files that can be emailed/printed or uploaded to Dropbox, Evernote, Google Drive, etc.
Even though I believe that Scanner Pro is a bargain at its normal $6.99, this marks the first time since it was released in 2011 that it's been available for free. If you don't have it yet, do yourself a favor and click here to get it now.