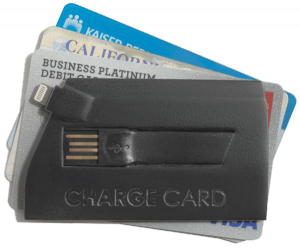 There are a few constants in life. If you use mobile devices (iPhones/iPads), you crave more power. The easier and more accessible it is, the better. What if you had a charger that you could carry around in your wallet? Well, now you can.
ChargeCard is a wallet-sized lightning cable that's the thickness of just two credit cards. As you'd expect, it works just like any "normal" cable for charging/syncing your iPhone or iPad and plugs into any USB port.
I have given the ChargeCard a good workout. Because of it's compact size and unique design, it takes a little getting used to, but I'm pleased to report that it works as advertised. The ChargeCard is made by Nomad, and retails for $25.00, with free shipping worldwide. It's guaranteed for life and comes with a 100% money back guarantee. If you're interested, click here to buy one (or barter for one, seriously).