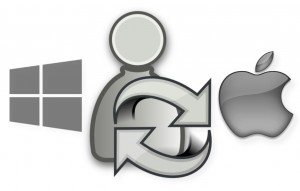 The number of attorneys using Macs has dramatically increased over the last several years. Scan the room at any continuing legal education seminar and you will see glowing Apples everywhere. I attribute this due to a combination of several factors: (1) the residual "gateway drug effect" from the iPhone/iPad invasion; (2) the ever-increasing number of programs/apps available on Macs; and (3) lawyers realizing the many benefits that Macs offer compared to PCs.
What about those in the legal profession who are "Mac-curious" but have not yet made the switch? This term refers to those who have seen or heard about attorneys successfully using Macs in their practices, yet still remain skeptical or hesitant for one reason or another. Are there resources available to help answer their questions and reassure them that yes, they too can make the switch? The answer of course is yes, and the only question that will remain is "why didn't I make the switch sooner?" Some of the many fantastic resources available include the following:
The Macs in Law Offices (MILO) legal technology forum was created in February 2007 by Ben Stevens and Grant Griffiths to enable attorneys, software developers, consultants, and other experts to discuss and share the best ways to use Macs in the practice of law. Since that time, it has become the largest forum of its kind, with well over 4,300 members – and best of all, it's free. MILO's membership roster reads like a virtual who's who of legal technology, and there's rarely a question asked that can't be answered.
The Missing Manual books are generally considered to be the best in class, and Switching to the Mac by David Pogue is incredibly helpful, well written, and easy to follow (even for technophobic lawyers).  It walks readers through the conversion process step-by-step, carefully and thoroughly explaining the differences between PCs and Macs, how to transfer your files, the best way to run Windows programs on your Mac, and other helpful topics. In my opinion, this book is a must have for those making the switch, and it will prove helpful later as a handy resource if questions arise.
Apple has produced a series of helpful videos on a wide variety of topics, including Mac OS X: PC to Mac – The Basics. This video runs just over six minutes, and it explains some of the differences between working in Windows and working in OS X. If you want to go deeper, Lynda.com offers a four hour video course, Switching from Windows to Mac by David Rivers, which thoroughly examines the similarities and differences between the two systems, including the operating system, hardware, and even some applications. 
The Mac Lawyer blog was the first legal technology blog specifically devoted to using Macs in a law practice. One of its primary goals is helping both new converts and longtime users get the most out of technology in their law practices. First published by Ben Stevens in August of 2006, it now contains almost 700 articles on a variety of topics, including a section on Switching to Macs, and its archives are searchable. You can also follow Ben's thoughts on technology and other issues on Twitter at @TheMacLawyer.
2008 marked the first year of the Mac Track at ABA TECHSHOW, the world's largest legal technology conference, which is held each Spring in Chicago. This conference features noted speakers and experts from all across the country, from large firms to small firms to everything in between. The Mac Track usually includes a few sessions aimed at switchers or recent converts. You can view the upcoming year's schedule here. Another popular conference is MiloFest, which is held each Fall in Orlando, FL, though it tends to be aimed at more experienced users.
The following articles should also prove helpful to those in the legal field who are considering making the switch (as well as those who have recently converted):