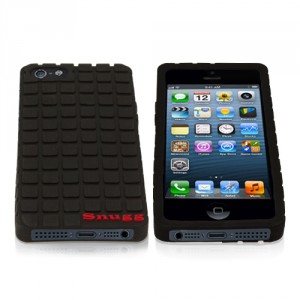 The Snugg manufactures cases for all types of electronic devices – smartphones (including the iPhone), tablets (including the iPad), and even Kindles. Its website proclaims that it uses "the finest materials" and "the highest quality craftsmanship" to achieve "the perfect Snugg fit."  As a result, it offers a lifetime guarantee on all of the cases it sells.
With that advertised pedigree, I was excited to receive and and review Snugg's Squared Skinny Fit Protective Case for my iPhone 5. After using the case for several weeks and putting it through its paces, I have the following observations:
Appearance :: The black squares molded into the black background look stylish, with the red embossed Snugg logo adding a nice contrast without being gaudy.
Quality :: The rubberized silicone case stretches to easily go onto and off of the phone. However, it would be better if the case fit a little more snug (no pun intended), as it would occasionally begin to pull off of the phone while in my pocket.
Protection :: The Squared Skinny case was thick enough to provide reasonable protection from bumps and scrapes, yet it was thick and light enough to not be intrusive. Its design also allows complete access to all buttons, switches, and ports.
In summary, I like this case a lot, but I don't love it. It looks and feels nice, but a tighter fit would provide more protection, which is its primary function.  Thanks to Snugg for allowing me to review their product.