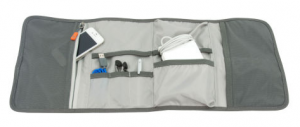 It's no secret that STM makes great products (see here and here), but they have come out with something that's a "must have" for techie lawyers on the go – called simply the Cable Wrap.
This nifty case easily organizes and protects those hard to pack and easy to lose items, such as adapters and cables, thumb drives, portable hard drives, power cords, and other accessories.
Measuring approximately 10″ x 6″ and weighing next to nothing, it quickly rolls closed to a much more compact size. An internal zipper pocket inside enables you to store the tiniest of items safely and securely. This is one of those "why didn't someone think of this before" items that can make your travel much easier.  To find out more about the Cable Wrap, click here.