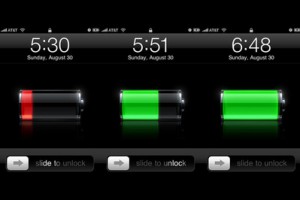 Everyone seems to have their own theory about what does (and doesn't) affect the battery life of iPads and iPhones. Which ones are true and which are not? Macworld published an article last week that examined various techniques which have been alleged to shorten or lengthen the battery life of iOS devices, and their conclusions are: 
Things that do affect battery life:
Screen brightness is the single most significant contributor to battery depletion. To check or change your screen's brightness, tap Settings –> Brightness & Wallpaper –> adjust the Brightness slider.
Maps and directions

 can seriously drain an iOS device's battery, particularly if the device is searching for GPS and/or giving driving directions.

Airplane mode

helps preserve your device's battery life by turning off multiple wireless features, including Wi-Fi, cellular antenna, GPS, Bluetooth, and location services.

Using iTunes Home Sharing

 to stream video from a Mac to an iOS device will drain your battery much faster than watching a movie that is already on your iPad.
Things that do not affect battery life:
Calibrating your battery

 will provide a more accurate estimation of your remaining battery life, but it doesn't actually help preserve battery life itself.

Utilizing Location Services

 doesn't expend much battery itself, so long as your device isn't being actively and consistently used for maps or driving directions.

Battery utilities

 may provide helpful information to help you manage your battery life, they do not do anything themselves to do so.

AirPlay streaming did not take a significant toll on battery life, even though it seems like it should.
Turning off equalization

during audio playback had little to no affect on battery life (despite

Apple's tip

suggesting that it does).
Source: "Fact or Fiction: Nine iPhone and iPad Battery-Saving Techniques Tested" by James Galbraith, published at Macworld.com.