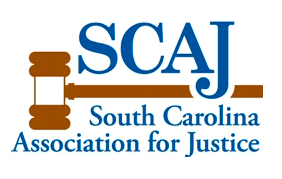 Earlier this year, Ben Stevens was named the chair of the Technology Committee for the South Carolina Association for Justice. Later this week, he and Jenny will be attending the SCAJ annual convention in beautiful Hilton Head Island.
Ben planned and will be moderating Computer Technology seminar there, which features "How We Do the Digital Law Thing by Thomas A. Pendarvis, Esquire and "How Litigation Apps Can Make You A Better Trial Lawyer" by James T. McLaren, Esquire and Jonathan Lounsberry, Esquire.
Ben will also be giving a presentation at the Litigation at Sunrise seminar on "Five Essential Apps for Trial Lawyers".  Ben serves on SCAJ's Board of Governors, and he previously served two terms as chair of its Family Law Section. He has been an active member of SCAJ for almost two decades, and he proudly shares its mission of protecting the public and keeping South Carolina families safe.