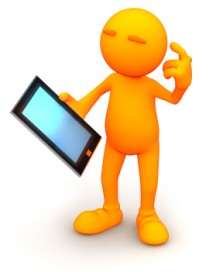 I have had the privilege of seeing several presentations by my friend (and trial lawyer extraordinaire) Jim McLaren explaining how he uses iPads and Macs in his family law practice. I asked Jim and his associate, Jonathan Lounsberry, to write this Guest Post to share this valuable information with my readers, and I greatly appreciate their generosity and willingness to do so. Part One appears below, and Part Two will be published on Thursday:
First, I want to thank Ben Stevens for giving me this opportunity. My intention is not to lecture on how to handle a case from top to bottom. Rather, I hope to share my firm's learning experience in dealing with technological and organizational challenges in critical phases of the litigation process. The choices, good, bad and in-between, will be shared. Hopefully, some of our experiences will shorten your path to successfully using technology in and out of the courtroom.
Remember, this is a team effort. Our staff is very specialized and experienced, each having an integral role. Input and participation from everyone in the office is essential. All lawyers and staff must know how to fly the plane. Since our approach to litigation of cases is a team effort, everyone on the team must be able to use the necessary tools.
Like many, we began with carbon copies and semi-manual typewriters. Now, we are fairly sophisticated from a technology standpoint, always trying to stay on the cutting edge of technology. When a case demands it, everyone in the office collapses around and works on that case during critical stages, such as preparing for trial, hearings or depositions. We endeavor to produce (in a short period of time) high-quality legal work.
We use technology throughout all phases of the litigation process. The two phases where technology has the most impact are depositions and trial. Below are the ways our firm uses technology during these two critical phases.
In depositions, I prefer to have three iPads in front of me as well as my MacBook Air, together with multiple hard copies and an index of all exhibits and a list of questions or subject areas I intend to cover with the witness. Why do I use three iPads?
On iPad #1 (Evernote), I have my deposition cross-examination outline, and any summaries or comparative analyses I plan to refer to during the deposition. Evernote allows me to collect and combine a multitude of information into a single repository. Also with Evernote Business, anyone at the firm can access and update the deposition cross-examination outline, summaries or comparative analyses. We refer to this iPad as the "OutlinePad".
On iPad #2 (PDF Expert), I have annotated copies of all of the exhibits I intend to enter during the deposition. PDF Expert allows me to annotate the exhibits and highlight what I am going after. Other good Apps for that purpose are Adobe Reader, iAnnotate and Good Reader. We refer to this iPad as the "ExhibitPad".
iPad #3 (BT Chat HD), is used exclusively for communication during the deposition with my experts, my client and co-counsel. I have used both email and messaging (BT Chat HD or Apple iOS Messages) for this purpose. I find messaging is the best method, being a little bit cleaner and more efficient. Messaging eliminates the clutter of email chains and extraneous emails. We refer to this iPad as the "YammerPad".
Sure, you can get away with one iPad, but it is difficult to maneuver between the screens in the heat of a deposition. It is better to have three – they are cheap and make your work easier and more manageable.
On the MacBook Air, we maintain the case Encyclopedia Britannica (Trial Notebook) allowing me to access any information about the case, particularly anything I have overlooked in preparation. You should not undervalue having everything about the case with you. The witness probably will bring up some obscure document you logged, bates-stamped and have readily available in the Trial Notebook.
Following the deposition, we always request the transcript in electronic (preferably .txt format) and paper forms. Once we get the deposition transcript in the office, we go about the business of summarizing the depositions. The summarization process is done with either iAnnotate or Transcript Pad. Whomever you designate to do the deposition summary should have a good handle on the case and the subject matter to be highlighted. Part Two will explain how technology can assist you in the courtroom. Stay tuned…
About the Authors:
James T. McLaren maintains a statewide family law practice emphasizing complex marital litigation in Columbia, South Carolina. He is a partner in the law firm of McLaren & Lee. He currently serves as First Vice-President and is on the Executive Committee of the American Academy of Matrimonial Lawyers, and he is a Diplomate of the American College of Family Trial Lawyers and a Fellow of the International Academy of Matrimonial Lawyers.
Jonathan W. Lounsberry has B.A.'s in Philosophy and Political Science from the University of South Carolina (2006) and a J.D. from the Charleston School of Law (2009). He is a member of the Charleston County Bar and the South Carolina Bar. He practices in the areas of complex domestic litigation and juvenile justice.